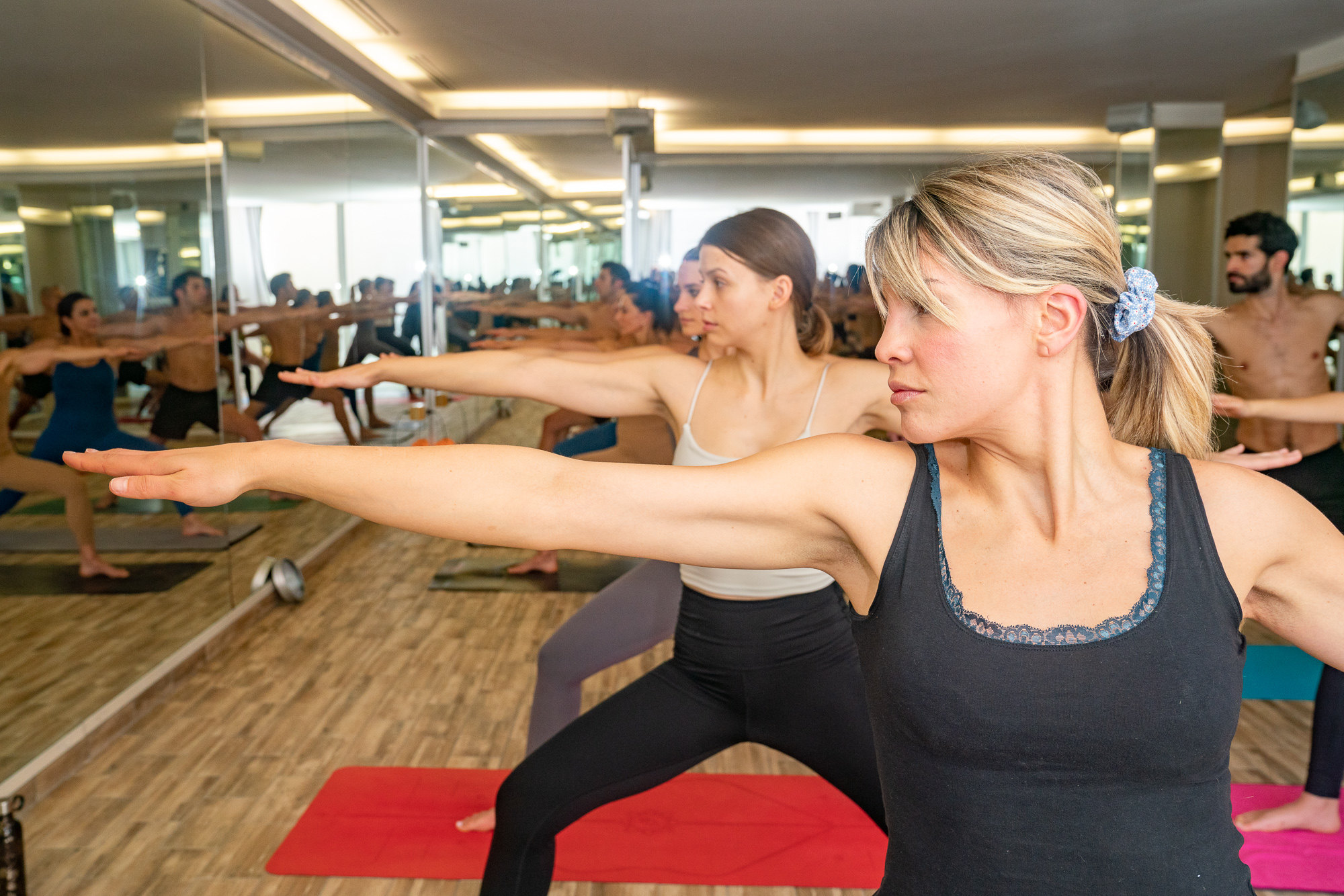 What is Bikram Yoga?
Bikram Yoga is a dynamic form of yoga which consists of a sequence of 26 asanas performed in an environment heated to 40°C and 40% humidity. This type of yoga was created by Bikram Choudhury and is based on the practice of Hatha Yoga, with the addition of a strong component of movements and perspiration. It is known for its many beneficial health effects, including stress reduction, posture improvement, injury prevention and pain reduction. Additionally, regular practice of Bikram Yoga helps improve strength, flexibility, and endurance.
Why in a hot room?
Practicing in a warm environment increases flexibility and helps relax muscles, making it easier to perform the poses. Also, developing profuse sweating during practice helps detoxify the body and improve circulation. The yoga room is heated to protect your muscles and allow for deeper stretching. The heat reduces the risk of trauma during the practice, helps heal previous injuries and prevents new ones by making us more flexible. In addition, heat increases heart rate promoting better cardiovascularity, improves strength and muscle tone by softening the collagen around the joints, thus increasing range of motion.
Yoga not only works the muscles, but the deeper tissues, glands and internal organs.
Useful information to prepare for the class
Please, if it's your first lesson, arrive at least 20 minutes early. Don't eat less than two hours before class. The room is hot so dress accordingly.
A mat, towel and water are required for each lesson. If you want you can rent or buy any or all of these items at our studio.
Useful information for preparing for the class
All lessons offered in our studio are for both beginners and advanced students. No preparation or previous knowledge of Yoga is required to participate in the classes.
You can start with any lesson and at any time of the year.
What one needs to know before the class?
We advise you to avoid eating for at least 2 hours beforehand, keep yourself hydrated during the day by drinking lots of water.
Our Bikram center has an online booking system but for the first lesson don't worry, come directly 20 minutes before the lesson and we will show you how to book for the classes.
If you're new to yoga, it's important to be patient with yourself.
It's important to want to improve, but remember that the yoga practice is a "journey" to be traveled at the speed that suits you best.
If one is not flexibile?
The Bikram practice does not require that you are already flexible. By strengthening the body, working on the spine and gradually moving it in every direction, you will regain your natural flexibility.
Try Bikram Yoga with the Promo Intro of 14 days
If you have never attended the studio, the intro offer is a Pass valid for 14 consecutive days which allows you to try all the lessons available at an exceptional price of €50.